Synonyms: Bleach; hypochlorous acid, sodium salt; soda bleach; sodium oxychloride
CAS No.: 7681-52-9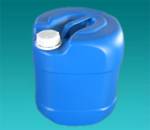 Molecular Weight: 74.44
Chemical Formula: NaOCl
Appearance: colorless liquid with strong odour
Specification:
Available Chlorine: 8%, 10%, 12%, 15%, 17%
NaOH: 1% max
Hazardous Materials Transportation Regulations
Class Grade 8, UN1791, P.G. III
Production Standard: HG/T2498—1993
Application: the product can be widely used as disinfectant, bleaching agent or oxidant resulting from the available chlorine in the product, for example, it has a wonderful disinfection for swimming-pool, drinking water, cooling tower &sewage and waste water, food, and farming, Hospital, school, station and household etc., good bleaching and oxidation are also found in paper and dye industry.
Packing in 10L 25L drums
Storage: Isolate from incompatible substances. Containers of this material may be hazardous when empty since they retain product residues (vapors, liquid); observe all warnings and precautions listed for the product.